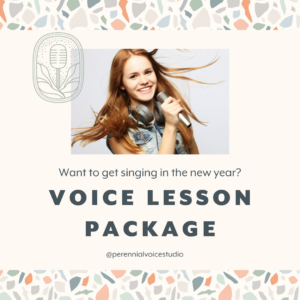 Have you ever wished you could be a better singer? Put voice lessons at the top of your New Years Resolutions list this year!
You've been thinking about it for years… Or maybe your child has been begging for lessons forever… 2022 is your year! Don't put it off any longer!
Perennial Voice Studio is offering a 4-lesson package perfect for those who are ready to finally get started improving their voice!
Learning to sing boosts self confidence, improves musical ability, provides an outlet for self-expression, promotes a sense of well-being by relieving stress, and improves breathing and aerobic activity.
In this package you'll get four 45-minute voice lessons where you'll learn:
How to uplevel your voice and singing abilities
Breathing techniques for singers
How to expand your range
Techniques for bringing more expressiveness to your song delivery
How to build confidence in your voice
Audition prep
And much more!
This package has flexible scheduling that will work for even the busiest of folks. Scheduling is a breeze with the easy online scheduling tool. The package is good for 90 days, ensuring plenty of time to use all the lessons. The lessons can be in-person in NJ or online, accessible to anyone all over the world!
Don't wait – finally cultivate a better voice for yourself or someone you love this year! This offer is only available until the end of January 2022!