Should I Go to College for Music?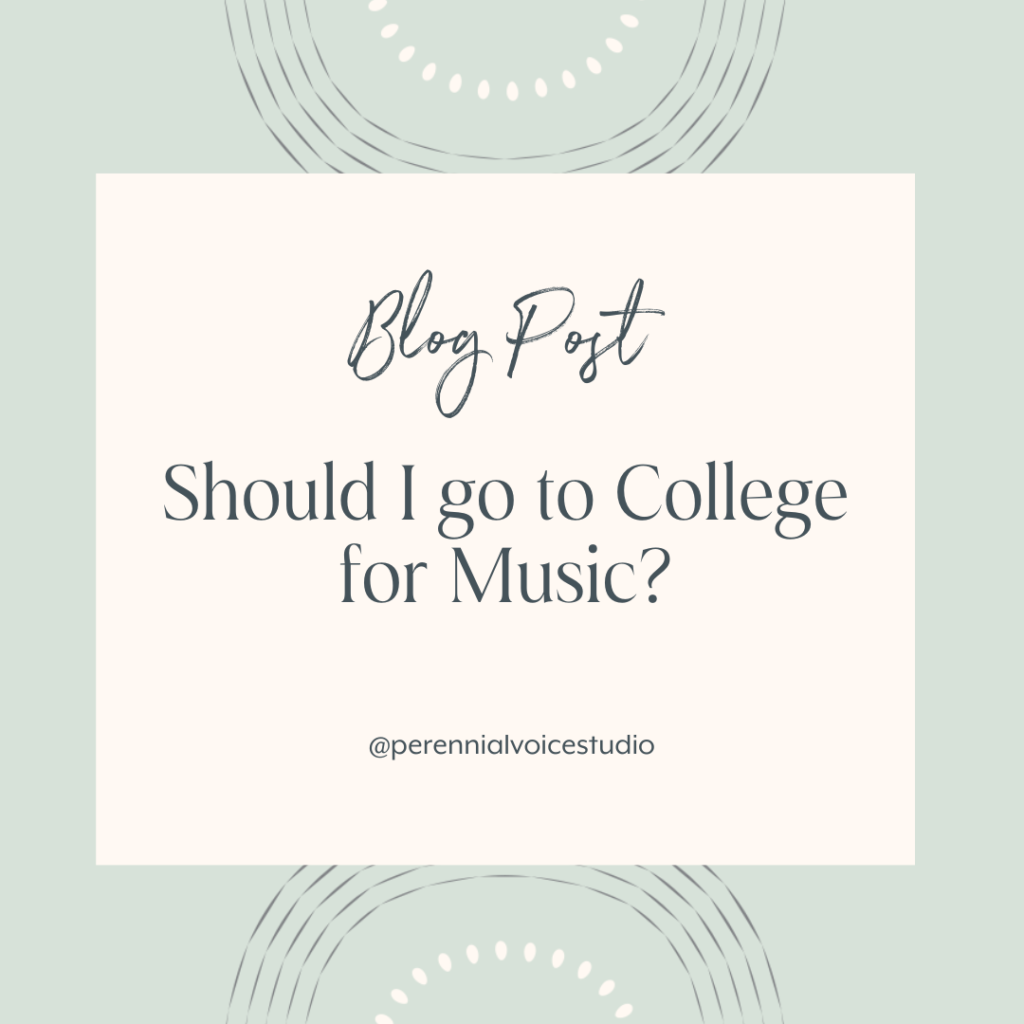 Thinking about going to college for music, musical theatre, vocal performance, or another field in the performing arts?
This is a big decision that can sometimes feel confusing!
A career in the performing arts can go a variety of ways; many folks have fulfilling careers that look very different from each other. One person might end up a performer while another may end up in arts administration, casting, teaching/education, directing, producing… the list goes on!
More and more, people in the arts are having multi-hyphenate careers, meaning they create their own paths and do multiple things to build their overall career.
Be Honest with Yourself
The most important thing you can do in making educational decisions is to be completely honest with yourself about:
Your desires and dreams
Your strengths
Your potential to be competitive in your chosen field
If you are willing to work really hard for this
Your expectations/needs for your future salary
Your expectations/needs for your future level of job security
After you have clarity on those things, really do your research. See what skills you'll need to follow your dreams, and what institutions can help you build those skills. College is expensive and you want to make sure you are spending your money on something that will be a good investment. Your return on investment can come in the form of skills, knowledge, experience, connections, job prospects, personal growth, and more.
It's not always the "Top 10" schools that provide the best education for your desired outcome, or for who you are as a person.
What Program of Study is Right for Me?
We can only answer this question after we've been honest with ourselves.
A degree in music education is a great choice for those who want to be a K-12 classroom music teacher, like a choir teacher, band teacher, or general music teacher.
A degree in music with a focus on vocal performance is good for folks who are passionate about being a singer and performer. Most "vocal performance" degrees are still classically focused, but there are starting to be more and more degrees that include contemporary genres, so make sure the program you are considering has what you want. BFA or BM degrees are going to be more performance focused than a BA degree, which is usually a little more general and well-rounded. A degree in vocal performance can be a starting path for a career as a voice teacher.
A degree in musical theatre is another type of performance degree and is usually a BFA. This can be a good fit for folks who are committed to being a musical theatre performer, or for folks who see themselves eventually going into fields like casting, directing, teaching, or producing.
A degree in music therapy is for those who want to use music to help make the lives of others better by aiding in their treatments.
A degree in music with another focus like composition, producing, technology etc. are available too.
Advanced degrees in performing, voice pedagogy, composition, education, and more all exist and can be helpful in getting you where you want to go. Talk to someone in the industry that you trust and respect to see what, if any, advanced degrees you might need to reach your goals.
Depending on the degree program and career path you choose, your life in the arts is likely going to involve some level of entrepreneurship. Keep that in mind as you think about your future. You may want to pick up some business skills along the way.
Disclaimer: As always, degree programs at different institutions can vary widely. Make sure the program you are considering has what you need! Some career paths may need further education or experience in the field.
Correlating Careers, especially for performers
Here's what a lot of people won't tell you – most professional performers nowadays need to have a correlating career. A correlating career is a secondary way that you make income, and in the long-term you may want this to be something beyond the stereotype of waiting tables (although it's fine if you do that too!).
Very, very few professional singers in musical theatre, classical, pop/rock, any genre you can think of, make full-time income from performing. And even people who have been on Broadway or on the Metropolitan Opera stage usually do other things to supplement their income.
And here's the freeing thing: THAT'S OKAY! You don't have to put all the pressure of your income on your voice, on the fickleness of the performing industry, or on other people's opinions about a particular audition you did. Having a correlating career is not a mark of failure. Isn't that liberating!?
The good news is that in today's online world you have so many choices of secondary careers that can go alongside your performing career. Some excellent correlating career options are remote jobs or building an online business of your own, whether that be related to the performing world or not. The reason why online work is so good for performers is because if you get hired to do, let's say, Carousel in Wisconsin, you can take your work with you.
This is important to think about now while you're considering college, because if you have an idea for a correlating career that you would be good at that's outside the performing arts, you may want to consider a school that would let you double major.
Takeaways
A career in the arts is doable and can be very fun, fulfilling, and financially viable. If you're willing to work for it, if you're willing to be creative and savvy, and if it's your dream, you should go for it.
As always, be smart about it. Consider the financial cost of your options and if it's realistic for you to pay it off afterwards. The most expensive school is not always the best fit for you. It's better to head out into the world as a college graduate with the freedom to explore career options without crushing debt looming.
That being said, college is not always a requirement to work in the performing arts. There are certain careers, like being a performer, that have no degree requirements. If you choose not to go to college, find another training program or assemble a group of mentors that you can work with regularly until you're ready to go pro. There are many working performers who did not do a formal degree program in the arts and they are thriving.
As someone who went to school for music (twice!), it was worth it for me. I get to do what I love! I'm rooting for you too!